AIRLINES exhibition Wurzacher Ried Nature Conservation Centre
In Corona times, most of the world's airlines have drastically reduced their flight operations – much to the benefit of air quality and the environment as a whole. But at the beginning of last week we took the iskiographs of the AIRLINES project "out of the hangar" again after a long break and hung them up for the next exhibition at the Wurzacher Ried Nature Conservation Centre northeast of Lake Constance.
As long as the exhibition cannot yet be visited, and for all those for whom the Lake Constance area is too far even without a lockdown, here is a "photographic tour" of the exhibition, as it is almost set up.
Entrance to the exhibition in the archway of Maria Rosengarten.
The flight paths of black kites, eagles and falcons were also drawn by Leonardo da Vinci in his sketchbooks over 500 years ago. There is an amazing similarity to the iskiographs shown here.
The swift section under construction.
Cranes and Canada geese on the Bodden coast of the Baltic Sea.
Birds, insects and other remarkable flying artists and the epilogue about their habitat – the air.
These two iskiographies of trajectories of swifts were taken on excursions during the 5th International Swifts Conference in Tel Aviv in March 2018. Numerous bird conservation organisations and ornithologists in Israel, Palestine and Jordan are working closely together on various projects. They regard the swifts as "birds of peace" that know neither state nor religious boundaries. About ninety pairs of swifts, as well as sparrows and pigeons, nest in gaps between the large stones of the Western Wall (see "Swifts of Bethlehem").
The welcome picture in the foyer of the museum shop.
The "Dragonfly of Wurzach" (AIRLINES XX-16) buzzed over a bridge in the spa park right next to the Nature Conservation Centre.
Monument to the Bird Father Agnellus Schneider, revered throughout the region, in front of the Nature Conservation Centre …
… always on the move with camera …
… tape recorder and binoculars. Often also with "bird traces" on his head.
The Maria Rosengarten Monastery with the exhibition Moor Extrem and the Wurzacher Ried Nature Conservation Centre.
The AIRLINES exhibition can be seen until 2 May – currently only with prior registration. In April, Lothar Schiffler may be able to present a lecture on the phototechnical, art-historical and ornithological aspects of the AIRLINES project in Bad Wurzach. Latest info here.
A guided tour of the exhibition is offered in the following video in German language with journalist Andrea Mall: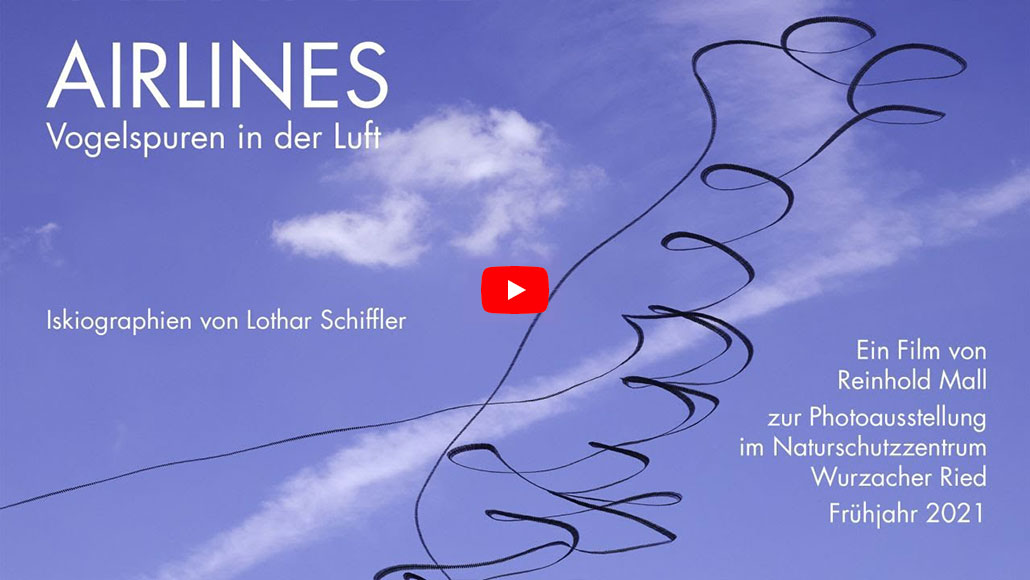 The video is in German language with English subtitles.